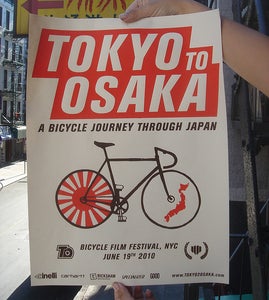 New York, NY – June 9, 2010 – We are very excited to announce the premier of Tokyo to Osaka: A Bicycle Journey Through Japan. The film will be premiering in New York City at the Anthology Film Archive theater as part of the 10th Annual Bicycle Film Festival .
The premiere screening will be at 8:00pm on Saturday, June 19th as part of the festival's "Urban Bike Shorts" program. Seating is very limited so please buy your tickets in advance. For venue and ticket information, visit www.bicyclefilmfestival.com
After the New York premiere, Tokyo to Osaka will travel with the Bicycle Film Festival to 34 cities around the world. The planned screenings are in Amsterdam, Athens, Austin, Barcelona, Boston, Chicago, Copenhagen, Denver, Lisbon, London, Los Angeles, Melbourne, Memphis, Miami, Milano, Milwaukee, Minneapolis, Montreal, Munich, New York, Paris, Portland, Sacramento, Salt Lake City, San Diego, San Francisco, Santa Barbara, Sao Paulo, Seattle, Seoul, Sydney, Taipei, Tokyo, Toronto, Vienna, Washington DC, and Zurich/Bern.
Please stay tuned to www.tokyo2osaka.com, facebook, and twitter for screening updates and other film news. For any press or interview inquiries please contact Nic Hill via nic@underdogpictures.com or through www.tokyo2osaka.com